Dementia can't dim love story 54 years in making
The Arizona Republic
March 2, 2019
By Lin Sue Cooney
Gerald calls it her "million-dollar smile" because of the beautiful way it lights up her face and the tingly way it makes him feel. He fell in love with the smile and the girl and married both.
That was 54 years, three sons and nine grandchildren ago. Gerald and Linda shared their lives and built their dreams, believing they had all the time in the world. Then, nine years ago, Alzheimer's came along. These days, Gerald visits his true love in a memory care facility where she is well cared for and seems content. He may find her sitting at a table having what he calls "word salad" conversations — social interaction with the cadence of speech but nonsensical sentences. Or she might be walking arm in arm with other male residents — something that doesn't even give him pause anymore. He knows she's just enjoying a stroll.
Most of the time, Linda doesn't know who he is — this nice man who rubs her shoulders, brushes her hair or sits by her bed whispering sweet nothings. But he can't help wanting to be close to her, to feel her warmth, see her nod or hear a tiny coo of approval. If he's lucky, he might bask in the light of that enchanting smile.
He knows he's experiencing what counselors call "anticipatory grief"— sadness over the ambiguous loss he witnesses daily. He sees the woman he loves only in fleeting glimpses. He copes by writing essays that remind him what their marriage used to be like.
His touching collection called "Musings of a Purposeful Mind" are charming one-page stories that crystallize a memory, a revelation or passage from their old life to this new one. These moments, penned with such heartrending honesty and courage, paint their life story in vivid color. The final chapters are being written as Linda retreats from the life she once knew and Gerald battles his emotions to walk beside her.
It's not an easy journey.
On their last anniversary, he bought a card, flowers and balloons — faithfully celebrating the special occasion, even though Linda has long forgotten she has a husband. When friends ask why, he says, "She may not know me, but I know her."
There was no recognition that day.
But yesterday as Gerald sidled up to pat her shoulder, Linda had a moment of clarity. She beamed that same milliondollar smile, like the girl he'd always known. It squeezed his heart and swept away so many empty weeks before. It reminded him that she is still present.
And he couldn't help himself. He fell in love all over again.
Lin Sue Cooney is director of community engagement for Hospice of the Valley. She was a newscaster at 12 News for 31 years.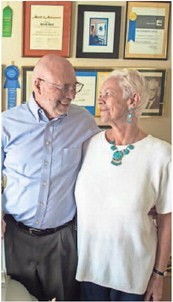 Gerald and Linda Wood have three sons and nine grandchildren. Linda now lives in a memory care facility, where Gerald visits frequently. JENNA-LEE NEFF/DUET