Supportive Care for Dementia
Enhancing quality of 
life
Family members often feel overwhelmed, anxious and isolated while caring for a loved one with Alzheimer's or other types of dementia. We offer comprehensive support, helping to improve quality of life by teaching new ways to communicate and find moments of joy.
Our Supportive Care for Dementia program is offered at no cost to families and helps patients at any stage of the disease, not just end of life. Some families only need it a short time to learn behavior management techniques. Others want support much longer. Either way, we are here for you.
24/7 phone support
Whenever you need help or advice, you can call and talk directly to a nurse or social worker, there's someone to turn to any time of day or night—never an answering service at (602) 636-6363.
Home Visits
Home visits from a dementia educator who teaches behavior management strategies for Alzheimer's disease and other dementias, and helps with medications, placement options and living wills.
Ask the Doc
Gillian Hamilton, MD, PhD, a nationally recognized geriatrician and dementia expert, can answer your questions by phone and consult with your loved one's physician if desired.
In Sickness and in Health
Richard and Barbara Yavitt have been married nearly 60 years, caring for one another in sickness and in health. Now she's caring for him at home, through the advancing stages of Alzheimer's disease, with help from Supportive Care for Dementia program. 
Family Testimonial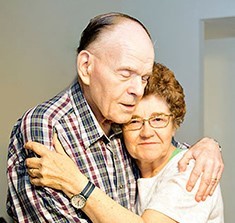 Mabel Sawyer gives her husband Bob eight hugs six times a day. It's the best medicine a wife could offer—especially to a husband with Alzheimer's disease. "Those hugs mean so much," she says.
But who's there to hug Mabel?
After enrolling in Hospice of the Valley's Supportive Care for Dementia program, the Sawyers receive home visits from dementia educators, 24/7 phone access to a nurse and phone consults with a physician who specializes in dementia.
Plus, once a week, volunteer Roman Obrycki visits to give Mabel some time to herself. "Bob and I play mahjong together on the computer," Obrycki said. "We look at family photo albums. We sort pens and pencils in his collection. We keep busy."
Mabel appreciates having a sympathetic ear, even in the middle of the night. "Once I was so upset, and the nurse listened and got me calmed down," Mabel Sawyer said. "I could talk without feeling embarrassed. I could cry and let it out."
Dr. Gillian Hamilton, program director, helped with medication issues. Bob suffered from a sleep disturbance that also kept Mabel up most of the night. Now, he is sleeping much better, and so is Mabel.
Helping Barbara
At 87, she was forgetting things and losing her eyesight. She couldn't take care of herself, her home—even her beloved dog. Thanks to a caring friend who reached out to Hospice of the Valley, Barbara is now safe and happy… and so is her pooch!