Campus Care and Education
Personalized 

care

At the Dementia Care and Education Campus, our whole community has access a wide array of resources to help ensure exceptional and compassionate care for loved ones. We are committed to supporting families through each stage of their dementia journey—early, moderate and advanced. Our teams specialize in personalized care that engages the senses and create feelings of safety and joy.

Thanks to the generosity of our community partners, we are honored to care for all in need.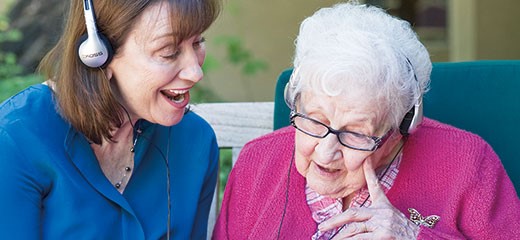 Engagement & Enrichment
Dementia causes changes in the brain that affect how people perceive the world around them. We can help family caregivers tap into what matters most to enrich quality of life, make their loved ones feel safe and bring moments of joy into their lives.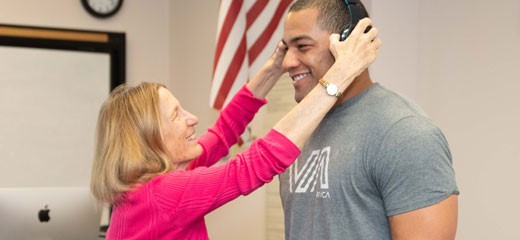 Education
Dementia touches all of us. Our skilled and compassionate staff teaches state-of-the-art approaches to help medical professionals, family caregivers and our whole community navigate the challenges of the dementia journey with knowledge and compassion.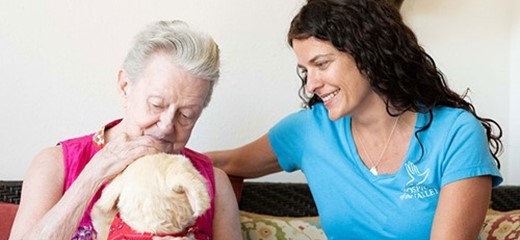 Support Groups
Learning to live well with dementia can be challenging. Our experienced dementia teams provide support -- sharing techniques and insights that help families provide the best care and nurture their own wellness. You're not alone.
We are grateful for the amazing team at Partners That Heal, part of the Phoenix Theatre Company. They use improv, music, storytelling and movement to engage and delight members of Adult Day Club members and Assisted Living residents at our Dementia Care and Education Campus. 
Our care at the Dementia Campus
Thanks to Arizona PBS and Arizona Horizon host Ted Simons for a wonderful interview with Maribeth Gallagher, Hospice of the Valley's Dementia Program director. Learn about the grant we received to provide dementia education to 3,000 healthcare professionals in Maricopa County and how we can support families living with all stages and types of dementia.
Suzanne Sanchez
★★★★★ Google Review
I'm so grateful for the Supportive Care for Dementia program. I was matched with Kristina and I am forever thankful for this! There were so many times I didn't know what to do, or how to handle situations, and she talked me through it with ease and made me feel supported. She is the best!! I've also attended the education sessions and taken my loved one to the memory cafe where she was singing along to the music in the end while family attended a support group. The work that HOV is doing in the community is so amazing and needed.
Karen King
★★★★★ Google Review
This is the only facility of its kind. The staff are extremely helpful and knowledgeable as most have been doing this training/education for many years. Many have had personal experience with Alzheimers and Dementia so they know exactly what we are going through. It's a haven for those of us in need of knowledge on how to deal/cope with our loved ones. Most of us find we've been doing it all wrong. But with new information we are doing better and coping better. Thank you so much for all the help and being available to the community.
J.A.S.
★★★★★ Yelp Review
My father is not currently at end of life, but is definitely in a failure to thrive situation, he has been welcomed by the DC&EC facility and the wonderful team who care for and love their patients.
He gets to spend 5 nights per month in their lovely, clean, friendly, warm, cheery facility. It's a respite for him and also for me. I know that he is fed, clean, safe and tended to and I visit him every day. We had trouble getting him to understand that a respite doesn't mean he gets to live there, because believe me, he would if he could.
Each Nurse, CNA, administrative staff, those keep the place spic & span, do laundry, fix meals .... every single person has been amazing, considerate, compassionate, helpful ... I can't say enough.
The doctor doesn't just "check in". You can speak with him in person, or on the phone and he will answer all your questions, give you the knowledge you need to best understand your family members specific wants & needs. DC&EC even took care of me needs. Consoled, advised, informed ... they are always there for me. It's a wonderful atmosphere to be in if this is where life has brought you. Each room is comfortable, large, clean, each with it's own outdoor patio & private bath/shower. The grounds are beautiful, several different styles and areas to enjoy a snack, meal or chat. During the day listen to the chatter of little children playing at the daycare in a separate area on site. Your loved one is safe & secure as they are monitored when stepping outside. They're not alone and you have no reason to worry.
Music therapy, board games, etc. And education is offered at scheduled meetings to help you through this experience.
I can't think of a better place to be at the most difficult time in your life or that of your loved one.
Howard Bolin
★★★★★ Google Review
Kristina is amazing and has helped me so much with my grandmother. We met with her and she is very understanding and knowledgeable. She was always positive and said can do statements I can appreciate. In this time of need any positive statements are a great mood booster. I look forward to meeting with her again and having her as my support aid. She is a great asset to the company. Thank you Kristina for all you do. You are an exemplary support aid.
---
Kevin Gunther
★★★★★ Google Review
As a professional that has had the privilege to work for seniors for over a decade I can say without a doubt Hospice of the Valley is the best and only resource you need. The educators on their staff are by far the best. Their love and passion in serving is evident in everything they do.
---
Gabriel Mayner
★★★★★ Google Review
Very nice place and friendly staff. My grandfather had a very nice relaxing time in their fresh rooms and their nice outdoor patio.
---
Melissa Cocanower
★★★★★ Google Review
Kristina Gunther is amazing and I don't know what we would have done without her guidance, education and support for dementia progression.