Valley Irishman makes virtual visit to boyhood home for St. Patrick's Day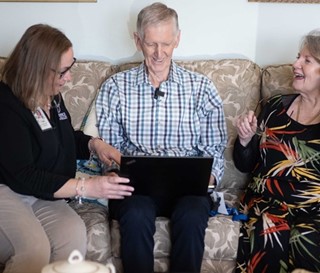 Eamon and Pat Treanor spot familiar landmarks in his hometown of Monaghan, Ireland, as Hospice of the Valley social worker Callie Dettinger shares the video from Flight to Remember, which takes hospice patients on virtual memory tours.
azbigmedia.com
March 14, 2021
by Lin Sue Cooney
Alzheimer's disease has robbed 82-year-old Brendan "Eamon" Treanor of day-to-day memories. Yet he can vividly recall his childhood in tiny Monaghan, Ireland, where he went to school, played soccer and lived on a street called St. Patrick's Terrace.
The youngest of 12 siblings, Eamon left his homeland at age 18 to chase opportunities in America. In New York, he met his soulmate, Pat, who — incredibly — was born on St. Patrick's Day! They moved to Litchfield Park in 2004 to be closer to some of their seven children and 21 grandkids.
"This is my true love! I wouldn't be here without her," the poetry-loving Eamon says, hugging Pat in a living room filled with family pictures and a Luck of the Irish plaque that blesses all who visit. That luck is what 77-year-old Pat believes led her to Hospice of the Valley. Isolated by the pandemic, the devoted caregiver knew they needed help, but never expected a whole team of people would be there to provide support — a doctor and nurse for medical care, emotional help from a social worker, and spiritual sustenance from Chaplain Bob Van Allen.
"They come in, they're happy, they know my name. There's a lightheartedness within the room. Chaplain Bob is like your best friend!" Pat says. "Even my children are ecstatic, because they can't be here right now. It's comforting to them."
With St. Patrick's Day in mind, Hospice of the Valley social worker Callie Dettinger wanted to do something meaningful for her sweet patient. She reached out to the Flight to Remember Foundation to have a drone pilot capture aerial video of Eamon's idyllic hometown. For seven minutes, he stared at her laptop screen, transfixed.
"Oh, this is where I used to live. That's where I grew up, in that house!" Eamon cried. He joked about tiny Monaghan, where "everything is on a hill; you go up a hill or you go down a hill."
Though much has changed in nearly 65 years, he was pleased to see some landmarks still there — the village church where he was an altar boy, Christian Brothers School, St. Maccarton's Cathedral, Belgium Square, the road to Belfast, the railroad to Dublin. "It brings back happy memories and good feelings, even though we didn't have much."
Callie was touched by the joy this virtual trip created — the sparkle in his bright blue eyes, the wide smile, his fond recollection of a past when "my mother was still there."
"I'm very touched," Callie says. "I had to hold back my tears. I just know what this means to Eamon. With our dementia patients, short-term memory is very difficult. Monaghan was very special to him and I knew this would be a great opportunity. It warms my heart to know that he can look at that video whenever he wants and always remember it."
It's a bird's-eye tour the couple plans to experience over and over again.
"Many of our fondest conversations today are about where he grew up. This gives us another form of communication," Pat shares wistfully. "Sometimes I think hospice is more for me than for him. It's the support that you didn't even know existed. You feel reassured. We're very grateful for this beautiful gift."