The pets may be fake, but the joy they bring to dementia patients is real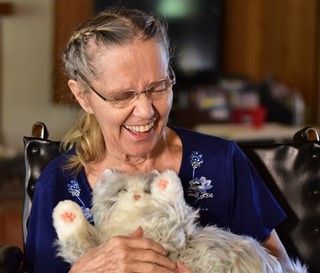 Donna Winston cuddles with her mechanical cat.
The Arizona Republic
July 21, 2018
To experience the love of a pet is to know unconditional love. They don't judge, play mind games or hold a grudge. Your dog is as happy to see you today, as he was yesterday. Your cat purrs contentedly every time she commandeers your lap.
So it's no surprise that pets calm and soothe dementia patients, who are losing their understanding of the world around them. It's frightening to forget where you are — to wonder why a perfect stranger is talking to you about things you don't remember. Holding a pet and stroking its fur brings a familiar comfort.
But because a real animal won't sit obediently for hours on end, Hospice of the Valley utilizes very special stuffed animals that are remarkably lifelike.
These battery-powered models move gently every few seconds or so — giving a little tail wag or head tilt. There's even a setting that simulates a cat's purr with a pleasing vibration the patient can feel.
The dog makes soft puppy sounds — often eliciting a tender response from patients who have stopped communicating.
"Buddy would stare at the floor and mumble," his wife, Anna, told me. "I had no idea what he was saying. But since he got the dog a month ago, he talks to it all the time and his voice is so much stronger. I can understand him now."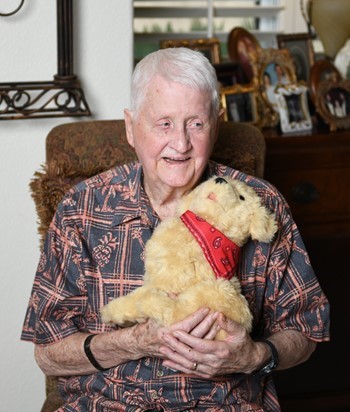 Buddy Stapp's wife says his communications skills have improved since he got his mechanical pup.

Our staff tells the story of a wife who brought her husband to one of our inpatient units for a short stay. The couple had been married for over 50 years, and as she prepared to go home, her husband became distressed.
Our staff gave him a mechanical cat for company, and it was an instant bond. He fell in love with the orange tabby, which did not leave his side, even when he went to bed.
And then there's Dee, who is never without her cat. Every waking moment, her fingers are buried in the plush fur.
Her husband, David, says it provides a sense of companionship. "It replicates the magical bond she used to have with her real cats and lessens her anxiety. I can see it in her peaceful smile."
Somehow that robotic feline makes Dee feel safe and loved.
This marvelous program began several years ago when Gillian Hamilton, administrative medical director for Hospice of the Valley, rented a $10,000 robotic seal from Japan touted to work wonders with people with dementia. However, Phoenicians don't relate well to a seal! We sent it home in favor of cuddly cats and dogs.
Their ability to charm patients may seem magical, but it's actually science.
According to a study by the Journal of Gerontological Nursing, patients with dementia who had mechanical cats experienced "less agitated behavior, better quality of life, increased interaction, communication, stimulation, relaxation and peace."
These furry friends have changed lives, comforting our dementia patients and also family members who rejoice in the happiness they bring.
After hearing some of these touching stories, a generous woman recently donated 100 of the robotic pets to our dementia program.
And we're overjoyed to have a kennel full of cats and dogs that don't need to be fed, watered, walked or picked up after — whose sole purpose is to bring unconditional love to those who need it most.
To learn more about Hospice of the Valley's innovative programs serving people at all stages of dementia, call 602-530-6900. In-home education and support is provided to families at no-cost for one month.