Simulation puts first responders in the shoes of people with dementia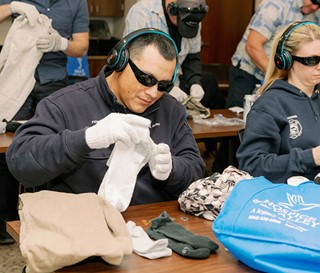 First responders from the Queen Creek Fire and Medical Department took part in a Hospice of the Valley simulation of the daily challenges facing people living with Alzheimer's disease and other forms of dementia.
Daily Independent
January 17, 2023
by Lin Sue Cooney
It's not easy to rattle a firefighter, but that's exactly what Hospice of the Valley did to a roomful of first responders from the Queen Creek Fire and Medical Department who had signed up for a training exercise.
The eight-minute experience, called Dementia Moments, took place in January and simulated the daily challenges facing people living with Alzheimer's disease and other forms of dementia.
"Brain changes caused by dementia make it difficult for people to understand, process and respond to the world around them," said Kobie Chapman, a dementia educator with Hospice of the Valley. "We are out here with Queen Creek Fire and Medical to equip them with the tools they need to understand what that's like. And we do it with this little blue bag."
Firefighters unpacked the bags and put on glasses with coated lenses to simulate cataracts and central vision loss. They donned gloves to mimic arthritis, neuropathy or sensory sensitivity. They also wore headphones blaring loud and confusing noises, while trying to follow vague instructions to button a shirt, sort coins, write their names and put a belt on a pair of trousers.  
Three minutes in, the calm in the room was replaced by chaos and confusion. A few were laughing as they struggled to follow the prompts. Others were clearly frustrated and voicing it.
"This is ridiculous," whispered one.
 "What are we supposed to do with these clothes?" another asked his partner, who was just as lost.
Firefighter Peter Minder said there "was a lot going on and it was hard to focus on the task that was given. I definitely will relate to dementia patients better after being in their situation, in a sense."
Engineer Katie Athey added: "Sometimes when you go on calls, it's hard because we're not understanding what's going on with people who have dementia. So, this helps us get a better understanding."
Captain Jason Mertlich couldn't hear or follow the instructions that were given but rode it out, knowing it would all be over soon.
"This was a task I was doing for a short period of time, but if this was something that was going to last, it would be very stressful," he said.
For first responders who are walking into crisis situations where emotions are high, "it's absolutely critical that they know or recognize when someone has dementia and is communicating differently," Kobie explained.
"Short-term memory isn't there, so people with dementia may forget you are standing behind them," Kobie said. "If you startle them by approaching from behind, you could create an unsafe situation with someone who is already combative or agitated. You could get punched."
Firefighter Jason Pridie wasn't sure what to expect when he signed up for the training, but he believed it would make him more empathetic going forward.
"To have that little bit of understanding of what they might be feeling will help me take it slow, show a little more patience and approach things differently," he said. 
Members of QCFMD's Fire Station No. 4 were grateful for this eye-opening experience that was aimed at helping them approach difficult situations from the perspective of someone living with dementia.
"Time is of the essence and everything we learn today is going to help us deliver the best emergency care as fast as possible," Minder said.