Sharing the Holidays with a Loved One with Dementia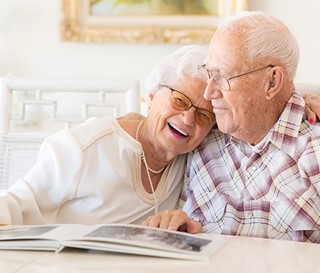 Christiane and Muryl Cole appreciate the support they receive from Hospice of the Valley's Supportive Care for Dementia program.
Goodyear Independent
October 20, 2021
by Lin Sue Cooney
The holidays can be both enjoyable and stressful. The hustle and bustle may cause fatigue and overstimulation in someone living with dementia, leading to confusion, anxiety or agitation.
Caregivers may become overwhelmed, particularly with the additional challenges posed by COVID-19.
Hospice of the Valley's Dementia Team shares ways to modify traditional holiday celebrations so they continue to bring joy.
Try to maintain routine as much as possible.
Keep expectations realistic and give yourself permission to do only what you can reasonably accomplish. Ask family and friends for help, so there is time to do shopping, cooking or just rest.
Be flexible. Perhaps celebrate with brunch, if your loved one is usually tired or anxious later in the day. Allow him/her to direct the flow of the day. If he/she needs a nap, honor that need.
Keep gatherings small (three to five people) and simple. Help others understand that decisions regarding in-person and virtual (phone or video calls) celebrations will focus on whatever is best to keep your person safe and comfortable.
Do not talk in front of the person with dementia as if he/she is not present. Do not argue, contradict or question. Avoid explanations that may overwhelm. Update others on changes so they can adjust their communication styles to fit the person's current abilities.
Develop a ritual to honor the person living with dementia — maybe serve a favorite dish this person prepared in the past and give everyone the recipe. Share favorite stories that involve the person.
Provide soft and sweet foods (ice cream is always a good choice).
To bring joy with sensory stimulation, choose ways that honor the lifelong preferences of the person with dementia and bring comfort. Choose experiences associated with the holiday — songs, traditional foods, the smell of seasonal potpourri or spices, holiday stories or photos.
The best gifts are often your time and focused attention. Simply listen to caregivers and offer opportunities for respite, even if it's an hour or two of downtime. For the person living with dementia, gentle touch, conversation and a comforting presence are reassuring.
And because time is even more precious during the holiday season, Hospice of the Valley's support groups for dementia caregivers are available on Zoom from the comfort of home. All are welcome to join these no-cost sessions:
Join Dr. Maribeth Gallagher, dementia program director, for a short practice Tuesdays at 10 a.m. to help relax and refresh, then discuss your heartfelt concerns as a caregiver.
Wednesdays at noon, experienced social worker Nicole Crothers discusses the challenges and rewards of providing care for a person living with dementia.
Find Zoom links to both groups here: https://dementiacampus.org/care-at-the-campus/videos-and-support-groups/
For more information, call our Dementia Program at (602) 636-6363 or email dementiacare@hov.org.