Piano Gift Hits High Note for People with Dementia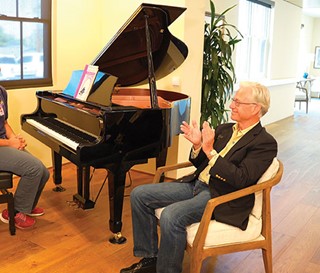 myhyperlocalnews.com
Jan 31, 2023
by Lin Sue Cooney
When Steve Harnden brought home a beautiful ebony baby grand, he envisioned his wife learning to play an instrument she had always loved. Monica was thrilled. The piano even had a "player piano" feature so it could play tunes by itself.
Over the next year and a half, Monica took lessons and mastered a few songs. She enjoyed filling their Glendale home with music until she was diagnosed with stage 4 pancreatic cancer. The optimistic former nurse joined an aggressive drug trial, fully aware that she would not benefit, but hoping it might save lives in the future. She fought for 26 months, living long enough to see her son get married.
In the last weeks of her life, Monica confessed to Steve that she never wanted him to get rid of the piano. But he felt strongly that it should continue to make music and bring joy to people. After talking it through, Steve suggested donating it to Hospice of the Valley. The nonprofit was caring for Monica through this vulnerable time and providing emotional support to him too.
"Our care team was outstanding," he recalls. "Actually, they were angels. Hospice of the Valley was our source of strength during those last few weeks."
Monica smiled and agreed there was no better place for her piano to go.
As she grew weaker, the piano lid was lowered, and lovely framed family photos were arranged on top for her to enjoy. Steve would launch the player piano feature with his iPad and they would sit together as the music swirled around them.
It took several years after Monica's passing before Hospice of the Valley's Dementia Care and Education Campus opened in Phoenix and could accept the generous donation, but Monica's piano was finally moved into its new home. It now sits in a cozy corner of the dining area of the Assisted Living at The Campus.
Because music has a magical effect on people living with dementia, members of the Adult Day Club are treated to impromptu performances — whether it's listening to holiday tunes and favorite songs on the player piano or enjoying live music, compliments of campus staff, or residents and visitors who can't resist tickling the ivories.
Recently, Steve felt ready to visit Monica's piano himself. He ran his hand over the small, gold-engraved seal bearing his wife's name. Then he sat, with eyes closed, as a young Hospice of the Valley volunteer gave him a private concert, playing a gorgeous arrangement of Chopin's "Nocturne in B-flat Minor." As he applauded, a look of pure delight lit up his face.
"I know Monica is smiling to see her piano in its new home," Steve says softly. "I don't feel any sadness — just joy. This is where it belongs so it can continue to make a difference. It's really good to see it here."
Hospice of the Valley's innovative Dementia Care and Education Campus serves people living with all types of dementia from early to advanced stages. To learn more, visit dementiacampus.org