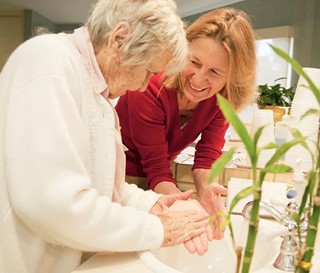 Arkansas Hospitals
Spring 2019
By Lin Sue Cooney
Caring for a loved one with advanced chronic illness is challenging. So is looking after a family member who's been diagnosed with dementia. Caregiving is an around-the-clock job, and those who do it often have little or no training before it's thrust upon them. They often feel overwhelmed, exhausted, and isolated. It's precisely for these struggling families that the unique care programs at Hospice of the Valley, a not-for-profit agency in Phoenix, Arizona, have been designed.
Recently awarded the prestigious Circle of Life Award by the American Hospital Association, Hospice of the Valley has developed creative and effective solutions for providing support and resources to patients and their families – greatly improving their quality of life – long before any family member needs hospice care. Cited as a shining example of innovation, the Circle of Life committee commended the hospice for being a model of inspiration for other health care agencies across the country.
As the leading provider of hospice care in central Arizona for more than 40 years, Hospice of the Valley has cultivated collaborations with many community partners to pioneer programs that help people living with advanced illnesses. "These palliative care programs serve as a safety net for ill patients who are not yet at the end of life but can benefit from in-home care. They provide critical emotional support for caregivers. Knowing what to expect and who to call in a crisis relieves family members' anxiety and feelings of isolation," says Debbie Shumway, Hospice of the Valley's Executive Director.
Arizona Palliative Home Care (AZPHC) is an interdisciplinary service that brings physicians, nurse practitioners, nurses, social workers, chaplains, and volunteers together to support patients in their journey with chronic illness. In addition to home visits, it also includes a telemedicine component, 24-7 telephone support by nurses, plus care coordination and education to support these patients who face high risk for hospitalization. The team creates a symptom management plan, coordinates care with community providers, helps patients with chronic illness find community resources, and clarifies the goals of care.
"Quality of life is vastly improved because patients have peace of mind, and reducing unnecessary hospitalizations results in significant cost savings," says Gobi Paramanandam, MD, Director of AZPHC. "We are there for them 24/7, which means that if an issue arises in the middle of the night or on the weekend they can call us instead of going to the emergency room. Our nurses can address the problem on the phone or make a home visit, if needed."
Hospice of the Valley's Transitional Care Program serves medically fragile patients who are leaving the hospital for home, ensuring they understand their discharge instructions, medication changes, and any follow-ups that are needed with health care providers in the community. It gives patients and their families peace of mind at a time when they are physically and emotionally vulnerable, and perhaps confused, about next steps in their care. By connecting patients to specialists to continue their care and taking the time to answer all of their questions, program coordinators help these high-risk patients have a better chance of avoiding a hospital readmission.
Hospice of the Valley also offers a unique Palliative Care for Dementia Program that provides support for those with dementia and their families. The model includes education, caregiver support, volunteers to provide caregiver respite, and medication management. Educators and social workers with expertise in dementia come to a patient's home and teach caregivers new ways to connect with loved ones as their speech and cognition diminish. They explain the different stages of dementia and help family members understand the patient's new and sometimes baffling behaviors. They offer emotional support and teach ways to practice good self-care. Volunteers can also give caregivers much-needed respite. All these services improve quality of life for the person with dementia and reduce the overwhelming stress experienced by their caregivers.
"It's not uncommon for people to get a dementia diagnosis and then feel lost," says Maribeth Gallagher, DNP, director of the Palliative Care for Dementia Program. "In the past," she explains, "it was almost as though it was 'diagnose and adios.' We help the whole family understand what to expect and how to prepare for the journey ahead."
One of its foundational values is 'Think Yes;' that cultural belief translates
into a mindset that every obstacle can be overcome

.

 

Hospice of the Valley is also looking toward the future, when the incidence of dementia will dramatically increase. As baby boomers age and medical advances help us live longer, statistics tell us that most people will be touched by this disease, either as patient or caregiver. The agency is building a state-of-theart, first-of-its-kind campus devoted to helping those living with all forms of dementia. The three-acre development will offer assisted living and a hospice home for dementia patients, an adult day center integrated with a childcare center to promote intergenerational interaction, and an innovative education center to teach medical professionals, family caregivers, and members of the community how to provide the best palliative care for those living with dementia.

Together, these cutting-edge palliative care programs create a full-spectrum continuum of care that supports chronically ill patients in the long term. By bringing needed care to the comfort of people's homes, the teams see patients in their own environment and often catch things that might go unnoticed in a doctor's office. And, because the team can connect multiple services – hospice, dementia, and palliative care – through a single agency, everyone is on the same page.

"We call ourselves the 'bridging department,'" says Jane Stern, RN and team leader for the palliative home care program. "We're able to connect with each other on the details, and the process is pretty seamless."

The success of these palliative programs is due, in large part, to Hospice of the Valley's philosophy of care. One of its foundational values is "Think Yes," and that cultural belief translates into a mindset that every obstacle can be overcome. When the current health care system can't help patients, the first instinct of this not-for-profit agency is to figure out a way to bridge the gap.

"Our work in developing such a broad array of palliative care programs is rooted in our belief that people deserve a safety net to prevent them from falling through the cracks," says Rachel Behrendt, DNP, RN, NEA-BC, Senior Vice President, Hospice of the Valley. "We recognize and value the trust that patients, families, and communities place in us; and we work to continually earn that trust by meeting their needs with compassionate care. We must do that in a responsible way – by creating programs that not only make a world of difference but are also sustainable." Hospice of the Valley is one of three national winners of the 2018 Circle of Life Award, which recognizes groups that provide innovative, compassionate care in their communities. Circle of Life awards are presented each fall by the American Hospital Association.

Lin Sue Cooney is Director of Community Engagement for Hospice of the Valley. A retired television newscaster and anchor, she now oversees the agency's marketing, business development, fund development, volunteer, and creative services.