How Arizona is managing rising number of Alzheimer's and dementia cases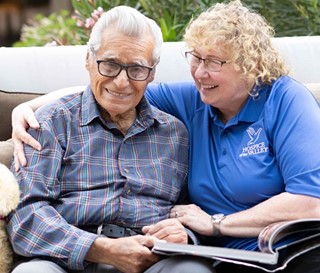 Hospice of the Valley provides hospice care; supportive care for those with serious illness; and care for people with all stages and all types of dementia.
azbigmedia.com
Sept. 20, 2022
by Erin Thorburn
From a statistics standpoint, the trajectory of people in the U.S. at risk of Alzheimer's disease is sobering. According to a 2022 report released by the Alzheimer's Association, "By 2050, the number of people age 65 and older with Alzheimer's or dementia is projected to reach 12.7 million." As of 2020, here in the Grand Canyon State, 150,000 individuals ages 65 and older were reported as having Alzheimer's. Projections indicate that diagnoses will be upwards of 200,000 by 2025.
In an effort to help support the growing number of Alzheimer's disease and dementia patients' families, medical providers and first responders, resources like the Alzheimer's Association, Desert Southwest Chapter and the new Hospice of the Valley (HOV) Dementia Care and Education Campus are invaluable. In addition to providing comprehensive care for all types and stages of dementia, HOV's new center serves as a support hub for patients' families and the local community, providing robust education and services.
"Modeling an innovative, state-of-the-art approach to comprehensive dementia care, this first-of-its-kind campus is helping our community navigate the challenges of the dementia journey with knowledge and compassion," explains Lin Sue Flood, director of community engagement for Hospice of the Valley.
Kinsey McManus, programs director for the Alzheimer's Association, Desert Southwest Chapter, echoes the uniqueness of the HOV Dementia Campus structure, explaining that whereas adult day care, assisted living and hospice in-care home services are often offered as individualized options, the Dementia Care Campus offers all three in the same location, in addition to an education center and adjoining child center. 
"The campus features an intergenerational adult day center that provides respite for caregivers and creates meaningful interaction with preschoolers in the adjoining child center," Flood notes. "Studies show intergenerational connection creates joyful benefits for both the young and the elderly."
According to Flood, the small assisted living center and hospice inpatient care home specialize in dementia care from the time of diagnosis and moving forward. The education center also provides a robust program of events and classes for family caregivers, healthcare professionals, first responders and students.
Caretaking conundrum
HOV's Dementia Care Campus not only provides knowledge and preparedness tools for families of dementia patients, comprehensive care for its residents and innovative approaches to enrichment and support for all —  it's also a reflection of a crucially and rapidly increasing need within the Valley.
"It is so critically important that we spread awareness to the general public about what [dementia] is, what it looks like, what to expect," McManus says. "And I do think that's one of the goals of the education component of the dementia care campus, which is really looking at creating broader awareness."
And, McManus eloquently adds, "No one organization can [provide broader awareness] on its own. This is where many hands make light work."
And it's not only potential inheritors of Azheimer's and dementia that can benefit from a better understanding of the signs, symptoms, terminology, medications and available care options, it's also advantageous to potential loved ones who often become caretakers.
According to the Alzheimer's Association, Desert Southwest Chapter, 257,000 Arizonans are caregivers of their loved ones with dementia. Arizona also holds first place in the U.S. for needing the highest average number of hours per caregiver in the nation.
"It's really important that we help [caregivers] think through their networks, because the other thing is, it's typically a fairly slow progressing disease," McManus says. "We see a lot of spouses and one-third of caregivers are daughters."
Adds Flood, "In the blink of an eye, a spouse or adult child becomes a caregiver, with no training or education to face the journey ahead, which can last years. Caregivers may feel isolated and depressed, and over time, neglect their own health. It's critical that they feel supported in order to provide loving and compassionate care to their loved one, and to nurture their own well-being."
Educating patients, caretakers
 

and communities

Even prior to becoming a future caretaker and learning about support systems, something as seemingly simple — yet widely misunderstood — as knowing the difference between Alzheimer's and dementia can help set both caretaker and patient on a more informed path.

"It's a really common misconception that [Alzheimer's and dementia] are interchangeable," McManus says. "And part of it is because the different types of dementia can be difficult to delineate from each other because they have a lot of overlapping symptoms, and physicians often tend to just tell families it's dementia and not necessarily that it is specifically Alzheimer's. We still have a lot of growth in that area of practice, and that's something the association is very focused on — improving dementia-capable healthcare."

McManus goes on to stress that no one should ever receive "dementia" as a medical diagnosis. "If your doctor says that you have dementia, you need to ask them what kind," she says.

It's for these scenarios and others that the HOV Dementia Care Education Campus is designed to help community members navigate anything from common misnomers to more complex issues. But, it serves yet another vital purpose — providing support systems.

"Our support groups are uniquely designed to accommodate both the caregiver and the person living with dementia," Flood says. "While family members meet in a safe, supportive environment with a trained counselor, their loved ones are in a nearby room experiencing fun and engaging activities with professional caregivers specially trained in dementia care."

As part of the therapeutic process, Flood shares about the Campus's "Dementia Moments" exercise designed to create empathy for those living with dementia and teach strategies to improve communication. "The eight-minute simulation presses participants to perform everyday tasks like counting coins or buttoning a shirt while being bombarded with sounds and images that distort their ability to see, hear and feel," she explains. "This mimics the difficulty that someone with cognitive impairment experiences."

All classes mentioned above are provided at no charge to the community.
Caring before curing
While no current cure is available, awareness about dementia and the care available to patients and families will continue to be a priority for the Alzheimer Association and resources like the HOV Dementia Care Campus.
Most FDA-approved medications on the market associated with Alzheimer's disease and dementia either address specific symptoms or are designed to slow the progression of the disease. But, research is advancing every day, as is the hope for new potential medications and treatments.
"They're doing some research around blood biomarkers, because typically what happens is that the symptoms [of Alzheimer's] have to be fairly prominent before a person gets a diagnosis," McManus says. "But we know there are things going on way earlier that don't necessarily meet that threshold of changing a person's ability to live, but certainly to live independently and successfully. But we do know there are things going on well before it hits clinical standards."
According to the Alzheimer's Association, a fairly recent discovery revealed that Alzheimer's begins 20 years or more before the onset of symptoms, making preventative measures presently difficult if not impossible to implement. Advancements in Blood biomarkers may lead to more discoveries in this area and others. 
As research continues to progress, McManus hopes to see additional education and care options like the HOV Dementia Care Campus come to the Valley. "I think a lot of the things that are happening in the dementia campus are exactly what we need," she says.
"Either they're setting a precedent for replication of other campuses like theirs, or are also signaling each of those areas as areas where we need exponential growth — because the reality is Alzheimer's is exponentially growing in the state."
In closing, Flood provides a pearl of hope for the local community: "Our goal is to help families not just live with dementia, but live well with dementia."