Hospice of the Valley unveils Dementia Care and Education Campus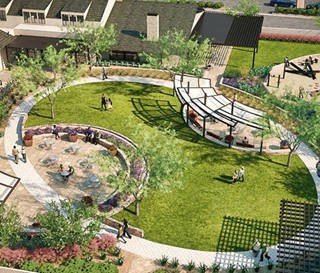 Arcadia News
Nov. 1, 2021
by Rachel Bouley
For over 40 years, Hospice of the Valley has served families of people with severe and chronic illnesses. The not-for-profit, community-based provider is now ready to expand with their brand-new campus in Arcadia, located at 44th St. and Indianola Ave.
The Hospice of the Valley Dementia Care and Education Campus began construction in March 2020. They anticipate opening their doors in early 2022 using a phased approach, which will begin with the Adult Day Club and Child Center.
The $25 million campus sits on 3.2 acres where the Scottsdale Unified School District office was once located.
The organization serves 20,000 patients and their families annually. The new integrated campus will expand services at a critical time as Alzheimer's and other dementias are now the fourth leading cause of death in Arizona. The campus is designed to meet the needs of people living with dementia and support professional caregivers, healthcare providers, and anyone in the community who is affected by this disease.
The enhanced full-spectrum care facility will cover over 140,000 square feet and offer comprehensive support for families with an assisted living center and a hospice inpatient care home. It will serve those living with various types of dementia, including folks in earlier stages who need support and education rather than hospice care.
The Adult Day Club aims to stimulate and engage individuals, encouraging the positive effects of intergenerational enrichment as adults enjoy fun activities with preschoolers from the child center run by Prince of Peace Church.
The Community Education Center will bring healthcare professionals and family caregivers together to share practices and help train the next generation of dedicated dementia care specialists.
Physicians, nurses, physical therapists and social workers will have access to a model patient room to share techniques. There will also be an array of classes, programs and support groups to keep loved ones and caregivers up to speed on treatment techniques, care plans and maximizing comfort in someone's final months.
The adjoining Memory Café will be a place to socialize and eat while hosting support groups for family caregivers. There's also a courtyard garden that families can utilize, and eventually, where community events can be held.
Construction and design crews put the finishing touches on the 10-person hospice inpatient care home, plus the 12-person assisted living facility for those with mild or moderate dementia in October. It's all part of the organization's continued efforts to provide comfort, dignity, and compassionate care for the community.
"Dementia takes an emotional and physical toll on families. Through education and compassionate support, we can make a difference in their lives," Executive Director Debbie Shumway said. "We are excited to create a place where people can live life to the fullest and receive exceptional care for all types and stages of dementia. We look forward to supporting family caregivers, educating health professionals and inspiring our community to live well with dementia."