Hospice of the Valley to break ground on innovative dementia campus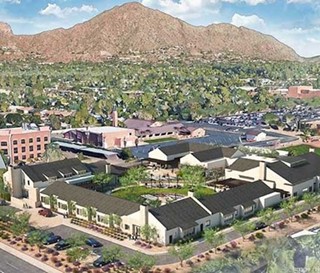 Lovin' Life After 50
January 13, 2020
By Lin Sue Cooney
We embark on a new decade celebrating a huge milestone in our efforts to help families live well with dementia, a disease expected to affect 200,000 Arizonans within just five years.
Friday, January 17, is the much-anticipated groundbreaking of the Hospice of the Valley Dementia Care & Education Campus, a one-of-kind resource at 3811 N. 44th Street, off Indianola Avenue, in Phoenix. Opening in early 2021, the 3.2-acre, state-of-the-art complex is comprised of five buildings:
The Education Center, the cornerstone of the campus, where diverse groups—patients, their caregivers, health care providers, students, volunteers and neighbors—all come together to learn and share experiences. The center features a cozy living room for small groups, a model bedroom and bathroom for teaching life skills, a resource library and a conference room for up to 110 guests. High school and college students can volunteer with patients and families, explore careers in dementia care and earn a certificate in palliative care from Arizona State University.


A 12-person Assisted Living Center with private rooms and a couple's suite for those with mild, moderate or advanced dementia who may or may not be on hospice. Residents will enjoy full services and amenities including housekeeping, dining, spa services, a casual piano bar for socializing, and companionship visits with Hospice of the Valley volunteers.


A 10-person Inpatient Care Home with private rooms for those with behavioral issues or advanced dementia. Helping late-stage patients maintain the best quality of life possible is the goal of our dementia care team, known nationally and internationally for its innovative and compassionate expertise in the field of dementia.


An Adult Center for up to 26 people will engage adults at any stage of dementia with an activity room, art studio and movement center. Numerous studies show interactive, intergenerational programs involving young children and the elderly have positive effects, including more smiles and increased engagement. Here, adults will spend time each day interacting with children—looking at picture books, viewing interesting videos, listening to music or just watching them play.


The adjoining Child Center will care for youngsters ages 18 months to 5 years old. They will be enriched by interacting with Adult Center participants; experience many fun indoor learning activities; and spend time outside enjoying safe, supervised playtime on the natural playground in the campus courtyard.
That's not all.
Adjoining the Education Center is the Dove Café—an inviting, dementia-friendly place to gather, socialize and have a bite to eat. Open to the public, it will also host support groups to provide family caregivers opportunities to share experiences with one another.
"Our team is creating a gold standard of superb dementia care to prepare for a rapid rise in the incidence of dementia," says Hospice of the Valley Executive Director Debbie Shumway.
"Our Dementia Care & Education Campus will be a place where people experience life to the fullest, the community comes together for education and collaboration, and families have peace of mind knowing their loved one is receiving beautiful care."
There could not be a more opportune time to create such a community resource. Alzheimer's disease is the fourth-leading cause of death in Arizona, which is projected to see the sharpest percentage increase in dementia among all U.S. states. While there's still no cure for dementia, we are committed to enhancing quality of life by supporting patients, caregivers, healthcare professionals and community members.
We'll be there for anyone who needs us — every step of the way.