Hospice of the Valley's Dementia Care and Education Campus opens in Phoenix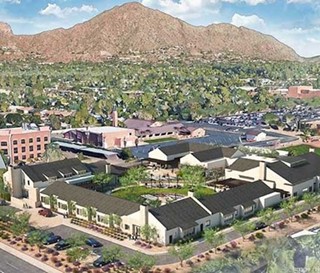 Jewish News
May 3, 2022
by Mala Blomquist
Hospice of the Valley's Dementia Care and Education Campus opens in Phoenix.
As Mayor Kate Gallego addressed the crowd at the ribbon cutting on April 19 for Hospice of the Valley's Dementia Care and Education Campus in Phoenix, she shared that she had a grandmother who had dementia. However, she admitted that their family was not well-equipped to deal with the diagnosis and called the new center "a very special place where caregivers and those who need care can get support."
According to the Governor's Office on Aging, Arizona's total population is expected to increase about 80% from 2010 to 2050. During this same period, the number of Arizonans age 65 and older is expected to grow by 174%. By 2025, an estimated 200,000 Arizonans will be affected by dementia, a 43% increase from 2018. Alzheimer's disease is now the fourth-leading cause of death in Arizona and the top-leading cause for women age 65 and older.
The Dementia Care and Education Campus is open for everyone in the community to utilize its resources. The Community Education Center provides instructional workshops, professional training classes, support groups, caregiver skills labs, mindfulness sessions for stress reduction and community concerts.
Next to the education center is the Memory Café for people living with dementia and their caregivers to connect with others to socialize. Each Monday from 10-11:15 a.m., the café offers sessions that include engaging activities provided by professional caregivers for those with dementia, while their caregivers can meet others, receive educational information and find support.
The campus is designed in a circle with a dementia-friendly green space in the center for outdoor time, complete with a large grassy area, planters, benches and walkways.
An Adult Day Club for people living with early or mid-stage dementia offers programs in art, music, movement and education to create cognitive engagement. The space has classrooms in addition to an open area with floor-to-ceiling windows looking out onto a patio. On the other side of the patio is the Child Center that Prince of Peace Preschool operates for children ages 2 to 5. At the end of the shared space is a covered playground.
According to the grand opening brochure, the campus has a child center because "Numerous studies show that intergenerational programs involving young children and the elderly have many positive effects on both."
The preschoolers will interact with the seniors for certain art activities or snack time.
"We all have ties with dementia," shared Nicole Hilden, preschool director at Prince of Peace Preschool. "My grandmother had it, and Nana lit up whenever my daughter was around. It's good to know that we can facilitate those experiences."
The campus has a 12-person Assisted Living Center with private rooms and a suite available for those requiring more care. "This 13-bed space is the first of its kind," said registered nurse Bessie Medigovich, campus team leader of the Assisted Living Center and Inpatient Care Home. The center also offers caregivers with dementia training and a community space for residents, along with dining and salon services.
The 10-person Hospice Inpatient Care Home features private rooms and provides short-term, around-the-clock care. "When people need additional support, we can provide Hospice of the Valley services and 24/7 care," said Medigovich.
Kristen Pierson, education director and manager of the Supportive Care for Dementia program that provides palliative care to Arizona families living with dementia, said, "Hospice of the Valley is so much more than end-of-life care." They offer free supportive care for dementia, including home visits and consultations to help keep the person at home as long as possible. But if someone needs more, Pierson said, "There's a home now for those with mild, moderate and advanced dementia. There is nothing like it in the United States." JN