Hospice of the Valley auction nets over $500,000 for dementia care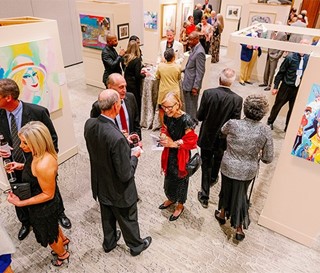 Scottsdale Independent
March 21, 2022
by Lin Sue Cooney
Our community turned out in spectacular fashion to raise a record $514,000 for Hospice of the Valley's innovative dementia care programs.
The not-for-profit helps people living with all types of dementia from the time of diagnosis and also supports their caregivers.
An enthusiastic crowd of 450 gathered at the JW Marriott Camelback Inn on March 12, to bid on paintings, exclusive trips, jewelry and a fabulous dining experience featuring the culinary talents of Barbara Fenzl and honored guest, Chef Mark Tarbell.
Recognized for his many years of community service, Tarbell was toasted via video by fellow chefs Beau MacMillan, Vincent Guerithault, Christopher Gross, Stephen Jones, Charlene Badman and Jacques Pepin.
Renowned local artist Elaine Coffee's beautiful painting, "Corrido des Toros, Arles," depicting modern travelers admiring ancient ruins in France, evoked oohs and ahhs from collectors of fine art, as did a stunning fiery-red enamelwork horse sculpture from Carl Dahl's private collection.
Several auction items drew spirited bidding: an eight-day odyssey to Greece, with stays in Athens, Crete and Santorini; a fabulous all-inclusive Napa Valley trip for four with private jet transportation; and an adorable Petite Golden Cavadoodle puppy.
"We are so grateful for your generosity," said Hospice of the Valley Executive Director Debbie Shumway. "For 45 years, it has truly been an honor to care for your loved ones. Thank you for supporting our mission — we are better together!"
Dynamic auctiontainer Leticia Frye teared up describing the agency's mission of comfort, dignity and compassionate care. She is a former Hospice of the Valley volunteer who loved visiting patients.
As the evening drew to a close, Letitia surprised guests with an anonymous offer to match every $1,000 bid — doubling the amount of money benefiting the agency's unique Supportive Care for Dementia program. This support improves quality of life by helping caregivers navigate the challenges of dementia and find new ways to create meaningful connections.
It is provided to families in their homes and at Hospice of the Valley's new state-of-the-art Dementia Care and Education Campus, opening soon in Central Phoenix.