Campus Helps Our Community Live Well With Dementia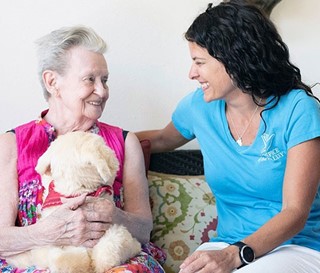 Hospice of the Valley Dementia Educator Michelle Bales uses a mechanical pet to bring joy to her patient living with dementia. Modeling an innovative approach to comprehensive care, the Dementia Care and Education Campus is opening in phases at 3811. N 44th St., Phoenix.
Daily Independent
Jan. 26, 2022
By Maribeth Gallagher, DNP, FAAN
Hospice of the Valley Dementia Program Director
It's astonishing to think that right this moment, there are 5.8 million Americans living with dementia. Arizona currently has one of the highest growth rates for the condition, with more than 200,000 cases predicted by 2025. Unfortunately, there are not enough healthcare workers trained in dementia care. And family members who are suddenly thrust into the "caregiver role" are not prepared for a condition that lasts years and becomes more challenging.
There has never been a more critical time to expand services to care for people living with dementia and support their stressed family caregivers. In February, Hospice of the Valley is opening a Dementia Care and Education Campus in Central Phoenix to enhance quality of life for patients and families, inspire careers in dementia care, and help build a workforce for the future. This campus brings comprehensive care and vital resources together in one place. It features:
An Adult Day Club that provides stimulating programs for those living with early and moderate stage dementia; and spurs rewarding interaction with preschoolers in the adjoining Child Center. The program also gives much-needed respite to caregivers.
A small Assisted Living Center that serves residents living with any stage of dementia.
A Hospice Inpatient Care Home

 

for patients with more advanced stages.
A Community Education Center that offers workshops and interactive skills labs for both professionals and family caregivers.
A Memory Café, where people with dementia and their care partners can relax and share experiences.
Caregivers struggle, in large part, because they don't understand dementia — and they feel alone and abandoned. Our Supportive Care for Dementia program is a no-cost, in-home program that is open to anyone in the community caring for a loved one at any stage of dementia. Our skilled dementia educators answer questions and provide valuable insight to educate, empower and support caregivers on this very difficult journey. 
We want people to know it's possible to live well with dementia and still experience joy. We want to teach families to celebrate the loved one who is present now, along with the person who existed in the past.
For more information about the Dementia Care and Education Campus or Hospice of the Valley's Supportive Care for Dementia Program, call 602-636-6363 or visit hov.org/dementia. 
Dr. Maribeth Gallagher directs Hospice of the Valley's Dementia Program, which has received national and international awards for its innovative approaches to dementia care. She is a psychiatric nurse practitioner with a doctorate degree in nursing. Her commitment to improving dementia care was initially inspired by her own experiences as a family caregiver.
********************
Hospice of the Valley presents: "Understanding Dementia"
WHAT: Are you caring for a loved one with Alzheimer's disease or other types of dementia? Join Dementia Program Director Maribeth Gallagher for a presentation, "Understanding Dementia — A Challenging Journey."
WHEN: Thursday, Feb. 3, Registration begins at 8:30 a.m., followed by program from 9 a.m. to noon.
WHERE: Grand Community Baptist Church, 18350 N. Goldwater Ridge Drive, Surprise.
PARTICIPANTS WILL:
Understand dementia and how it progresses from early to advanced stages.
Learn to develop strategies to make and maintain meaningful connections with the person with dementia.
Further value the caregiver role and explore ways to reduce stress.
ADMISSION: Free. A continental breakfast will be provided.
RSVP: Email events2@hov.org or call 602-636-5396.