Benevilla launches dementia training at bistro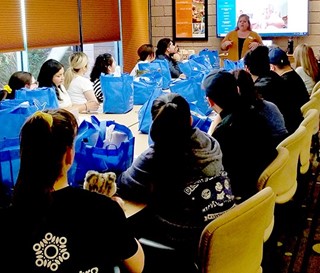 Birt's Bistro staff takes part in "Dementia Moments" training in Surprise on Feb. 24.
Surprise Independent
March 11, 2020
by Lin Sue Cooney
'Purple Table Project' aims to make Birt's state's first dementia-friendly restaurant
Birt's Bistro at Benevilla, 16752 N. Greasewood St., Surprise, is the restaurant chosen for the launch of the "Purple Table Project," to bring awareness on being "dementia friendly" in public places in the local community.
Vice President of Program Operations at Benevilla Courtney Allen has been selected as a Hospice of the Valley "Dementia Fellow" for 2020, and is developing a dementia friendly dining experience platform to roll out and integrate throughout the community. She is launching the Purple Table Project at Birt's Bistro, a social enterprise organization which supports the programs and mission of Benevilla.
The task of the program is to train and engage other city of Surprise area restaurants to support the opportunity to offer dementia-friendly dining for a more predictable and comfortable experience for those touched by the disease.
 "I will be working with the Birt's Bistro team to educate them and provide training in dementia and the understanding of it so Birt's can become the first dementia friendly restaurant in Arizona," Ms. Allen stated in a news release. "There are few of these in the United States but none in our state."
The Birt's Bistro staff will continue to have training and education throughout early summer, and is planning to open one night a month for families living with dementia to provide an experience to these families and individuals.
The program training began Feb. 24 at Benevilla with education about dementia and a live "Dementia Moments" workshop, led by Hospice of the Valley's dementia educators Michelle Bales and Claudia Fernandez. The entire staff of Birt's Bistro was guided through an interactive eight-minute experience pressing participants to perform daily living tasks as if they were living with Alzheimer's or another dementia.
"I had no idea what living with dementia was like," Birt's Food & Beverage Manager Julie Chavez stated. "With this training, you walk in the shoes of someone with dementia. There is an immediate and lasting change of perception. The training has given me insight on how it feels to someone who is suffering with dementia and how I can be more empathetic and supportive when they come to our restaurant."
During this training, all the Birt's Bistro staff also became certified as "Dementia Friends." They also listened to a presentation from a caregiver who cares for her husband with dementia and heard real life stories about how the family copes with living with dementia daily.
Call 623-584-4999 or visit benevilla.org.